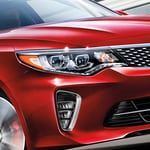 The Kia Optima is one of the best midsize sedans on the road. Known for its premium materials, advanced technology, and above average performance, the Optima offers a lot of value to the everyday driver. The fuel efficiency is quite high in this latest edition. Drivers note that they get up to 37 mpg on the highway or more. You can keep track using the display on the Optima.
The 8-inch LCD display instantly connects to your phone so that everything is connected, and you can stay safe on the road. No matter what you need, your car is there for you, and it includes a Wi-Fi hot spot. You can now connect to your phone easily to get the news, stock prices, music, or make a phone call.
The performance isn't lacking in the Kia Optima either. Whether you want more fuel economy and opt for the basic four-cylinder or you want to upgrade to the turbocharged edition, the Kia Optima's main goal is to save you money. You can see how well this new Optima drives when you test drive at Pitre Kia of Las Cruces.